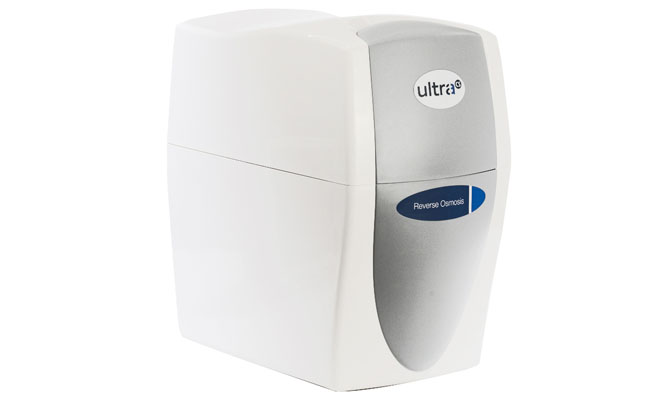 Ultra Classic CS reverse osmosis filters and postfilters water. Its semi-permeable membrane removes a high concentration of the salts dissolved in it, obtains
high quality water and offers a pure taste as it comes out of the system.
Health for you and your family
Your health, and the health of your family, depend on the water you drink. Reverse osmosis water from Ultra Classic CS is perfect for low-sodium diets, which help regulate the organism. With the ULTRA Classic CS reverse osmosis you can forget about buying, loading and storing bottled water. Also, you will only have one invoice: that of the water supply network. This water is perfect for all types of cooking: pasta, vegetables and legumes. It is ideal for coffee, tea, infusions, soups, fresh drinks, ice-cubes, etc.
Dimensions: 435 mm x 250 mm x 410 mm
Weight: 13 kg.
Flow: 0,15 LPM
Inlet TDS (max.) : 2000 ppm
Feed Hardness (max): 15º HF
Temperature (max. – min.): 40ºC/ 2ºC
Membrane: Type 1 x 1812 75 GPD.
Membrane production: 150 lpd*. Water softened with 250 ppm. 25ºC. 15% conversion
Membrane pressure: 3,4 bar
Inlet Pressure: 1 / 2,5 bars 100 – 250/ 600kPa
Faucet: 1 way
Pump: Booster.
Max accumulation: Presurized tank. 7 l
Power Supply: 24Vdc. 30W
External adapter: 100-240V. 50/60Hz: 24Vdc
Sediments filter GS Greenfilter (Ref: 291803)
2 Coal Pre-filter GAC GS Greenfilter (Ref: 291902)
Remineralitzer post-filter GS Greenfilter (Ref: 291920)
Membrane CS Greenfilter (Ref: 767201)